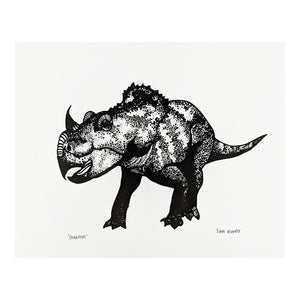 Slimepup Press
Ceratops Print
An 8x10" Ceratops Letterpress Print. Printed in black ink on archival 280 gsm printmaking paper.
HANDCRAFTED FINE ART PRINT
PRINT: Letterpress
PAPER: White 280 gsm printmaking paper
PAPER SIZE: 8" x 10" | 20cm x 25cm
EDITION SIZE: Signed and unnumbered open edition 
Printed by hand using original artwork and traditional printmaking techniques in Asheville, NC
Owing to the traditional handcrafted printmaking processes used, each print is unique and will exhibit some subtle variations.
Regular price
$15.00
$0.00
---
More from this collection