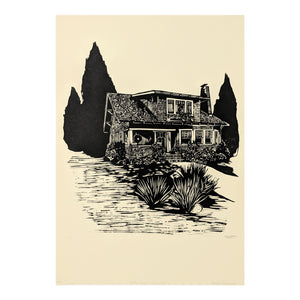 Starfangled Press
Seconds Sale - Better Homes and Gardens
All sales of Seconds Sale Items are final. No returns will be accepted.
Seconds Sale items each exhibit a varying degree of imperfection in printing, and/or damage to the item.
When ordering online, we will choose the least damaged available version of the item selected for you, but make no guarantees as to the overall quality.
*It's usually not as bad as we think it is, but hey, that's also why it's so cheap! 
HANDCRAFTED FINE ART PRINT
PRINT: Woodcut
PAPER: 100 lb. Speckletone Cream Cardstock
PAPER SIZE: 18" x 12.5" | 46cm x 32cm
EDITION SIZE: Signed and numbered edition of 50. 
Printed by hand using original artwork and traditional printmaking techniques in Brevard, NC
Owing to the traditional handcrafted printmaking processes used, each print is unique and will exhibit some subtle variations.
Regular price
$12.00
Sale price
$40.00
---
More from this collection