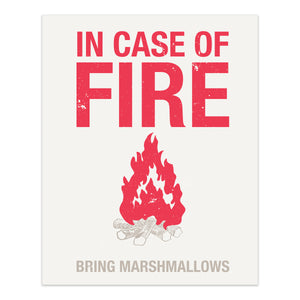 Starfangled Press
Seconds Sale - In Case of Fire - Bring Marshmallows Screenprint
All sales of Seconds Sale Items are final. No returns will be accepted. Seconds Sale items each exhibit a varying degree of imperfection in printing, and/or damage to the item. When ordering online, we will choose the least damaged available version of the item selected for you, but make no guarantees as to the overall quality. *It's usually not as bad as we think it is, but hey, that's also why it's so cheap! 
What's your favorite campfire treat? We couldn't decide, so we made a series of In Case Of Fire suggestions! 
The In Case of Fire - Bring Marshmallows screenprint is an original design and fine art print from the Startfanlged Press In Case Of Fire series.  The print is screenprinted by hand on soft white paper with a rich, flat matte ink finish indicative of this print medium.

Inspired by the classic safety signage "in case of fire, break glass" our print features a simple line drawing of a campfire matched with humorous text suggesting various fireside treats. The entire image is printed with a slightly distressed texture. 
PRINT: Screenprint
PAPER: Soft White 110 lb. Cardstock 
PAPER SIZE: 10" x 8" | 36cm x 28cm
EDITION SIZE: Open edition
The print is 10" x 8" and is printed on 110 lb. soft white cardstock manufactured by a 6th-generation family-owned American papermaker. 
Prints are sold unframed and individually packaged in a crystal clear, protective closure cello sleeve with a rigid 4ply backing board. Backing boards are pH neutral, made from 100% recycled fiber, and letterpress printed with a small Starfangled Press logo.
Printed by hand using original artwork and traditional printmaking techniques in Brevard, NC. Each print is unique and may exhibit some subtle variations.  
Regular price
$6.00
Sale price
$20.00
---
More from this collection