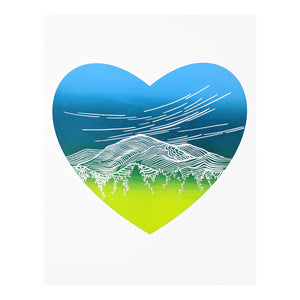 Starfangled Press
Seconds Sale - Mountain Heart Screenprint
All sales of Seconds Sale Items are final. No returns will be accepted. Seconds Sale items each exhibit a varying degree of imperfection in printing, and/or damage to the item. When ordering online, we will choose the least damaged available version of the item selected for you, but make no guarantees as to the overall quality. *It's usually not as bad as we think it is, but hey, that's also why it's so cheap! 
Mountain Heart Screenprint
PRINT: Screenprint Monoprint
PAPER: 110 lb. Soft White Cardstock
PAPER SIZE: 14" x 11" | 36cm x 28cm
EDITION SIZE: Open edition 
The print is 14" x 11" and is printed on 110 lb. soft white cardstock manufactured by a 6th-generation family-owned American papermaker. 
Each print includes a small blind impression of the Starfangled Press logo in the bottom corner of the paper. Prints are sold unframed. 
Prints are individually packaged in a crystal clear, protective closure cello sleeve with a rigid 4ply backing board. Backing boards are pH neutral, made from 100% recycled fiber, and letterpress printed with a small Starfangled Press logo.
Printed by hand using original artwork and traditional printmaking techniques in Brevard, NC. Each print is unique and may exhibit some subtle variations. 
Regular price
$10.00
Sale price
$28.00
---
More from this collection