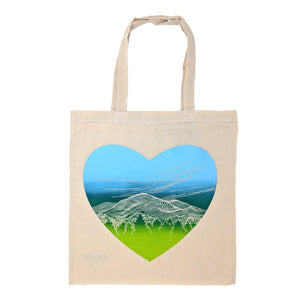 Starfangled Press
Seconds Sale - Mountain Heart Tote Bag
All sales of Seconds Sale Items are final. No returns will be accepted. Seconds Sale items each exhibit a varying degree of imperfection in printing, and/or damage to the item. When ordering online, we will choose the least damaged available version of the item selected for you, but make no guarantees as to the overall quality. *It's usually not as bad as we think it is, but hey, that's also why it's so cheap! 
Screen printed 100% natural cotton canvas tote bag with reinforced stitching on matching natural canvas handles. 
HEIGHT: 15.5" | 39cm
WIDTH: 14.5" | 37cm
*Due to the printing technique used in the creation of this image the gradation between the colors on each tote bag is 100% unique and will vary slightly from the image shown here. 
Regular price
$4.00
Sale price
$12.50
---
More from this collection