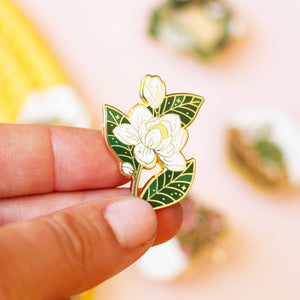 Occasionalish
Southern Magnolia Enamel Pin
How beautiful are the white, creamy petals of the magnolia flower? Surprisingly, these delicate-looking blossoms are actually HUGE, and can be up to one foot in diameter! Luckily, this pin version is much smaller, so you can easily pin it on your jacket or bag.
An enamel pin to add flair to your collar, jacket, or bag. Perfect for collecting, displaying, or gifting to a friend!
The pin is made with hard enamel and polished gold-colored metal plating. It has two posts on the back for extra security and comes with rubber clutch backings.
• 1.25" Hard enamel pin
• 2 Posts with rubber clutches
• Designed by @occasionalish
Regular price
$12.00
$0.00
---
More from this collection