Art With Staying Power
Laptops, water bottles, cell phones, coolers, helmets, bikes, cars and more. Premium vinyl stickers designed to handle all of your adventures.
Shop All Stickers

Handprinted Cards for Every Occassion
The paper, the ink, the original art. It's not just a card, it's an experience, handcrafted with love you can truly feel.
Shop All Cards
Hello!
Starfangled Press is an artist-run studio and gallery with a passion for hand printed original art. We believe that art makes life better! And who doesn't want that?
Your source for beautifully curated original art and gifts, Starfangled Press represents a growing list of exceptional artists working with woodcut, etching, screenprint, lithography, risograph, and letterpress.
We are so happy that you're here… keep in touch!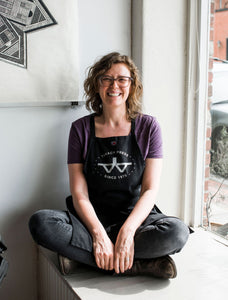 Your New Favorite(s)
All the t-shirts and tank tops pair premium oh, so soft fabric with Starfangled Press original designs that are screen printed by hand using non-toxic water-based inks for superior comfort.
Shop All Shirts
Starfangled Press
36 West Jordan Street
Brevard, NC 28712
Store Hours
Mon - Th   11 am - 5 pm
Fri + Sat   11 am - 6 pm
Sunday      12 pm - 4 pm