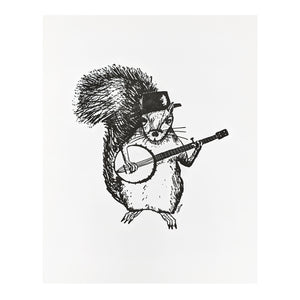 Ratbee Press
Squirrel Playing Banjo
This little squirrel is playing the banjo! For lovers of bluegrass music, folk music, or those who just want some rustic or ironic black and white wall art. Also a great fit for squirrely children, or decor for your nursery room. Part of a set of three.
HANDCRAFTED FINE ART PRINT
PRINT: Letterpress
PAPER: French Paper Co. White
PAPER SIZE: 10" x 8" | 25cm x 20cm
EDITION SIZE: Unsigned and unnumbered open edition
Printed by hand using original artwork and traditional printmaking techniques in Asheville, NC
Owing to the traditional handcrafted printmaking processes used, each print is unique and will exhibit some subtle variations.
Regular price
$21.00
$0.00
Lil' banjo pickin' squirrel
I saw the same print hanging on the wall of a new restaurant in town and every fiber of my being wanted him. A quick google search led me here. I was thrilled to learn this is handcrafted and supporting a small business in the Carolinas. Someone put their heart in this and I will treasure this purchase. Currently on a mission to find the perfect frame so he can be a lil bluegrass star on my collage wall! Thank you!!
---
More from this collection