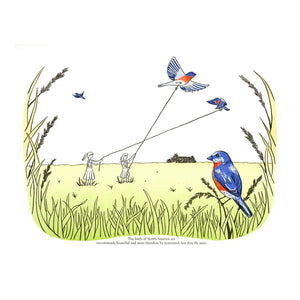 Jessica C. White
Birds of North America
This is a digital reproduction of a letterpress print from the"Prudence and Patience" series. The original is a limited edition hand-colored letterpress print, made from photopolymer plates and woodcuts of the artist's original illustrations and text.
Text says "The birds of North America are uncommonly beautiful and must therefore be restrained, lest they fly away."
This print is an 8"x10" inkjet print on archival paper, printed in an unlimited edition. 
PRINT: Ink-jet
PAPER: Archival
PAPER SIZE: 8" x 10" | 20cm x 25cm
EDITION SIZE: Unsigned and unnumbered open edition
Regular price
$20.00
$0.00
---
More from this collection