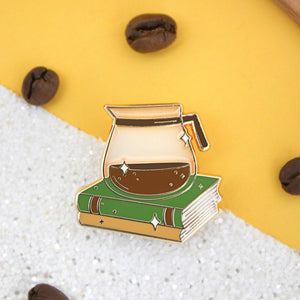 Occasionalish
Coffee and Books Enamel Pin
Coffee lovers and book lovers unite! A fresh pot of coffee will help wake you up so you can spend some time reading your favorite book. Or...perhaps will help keep you up so you can stay up late reading?
This pin features translucent enamel on the "glass" of the coffee pot. The rest of the pin is made with hard enamel and polished gold-colored metal plating. It has two posts on the back for extra security and comes with rubber clutch backings.
• 1.25" Hard enamel pin
• Translucent on the "glass"
• 2 Posts with rubber clutches
• Designed by @occasionalish
Regular price
$12.00
$0.00
---
More from this collection