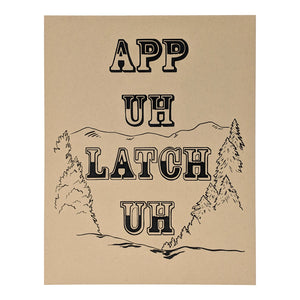 Starfangled Press
Appalachia Print
Either, you know or you don't know. Make sure everyone knows the correct way to say it, with ourStarfangled Press hand-drawn, original design inspired by the correct pronunciation of our mountain home. 
This 14" x 11" screenprint incorporates the correct phonetic pronunciation of Appalachia in a simple line-drawn mountain landscape printed in rich, flat black ink on natural kraft paper. 
PRINT: Screenprint

PAPER: 100 lb. Kraft Cardstock
PAPER SIZE: 14" x 11" | 36cm x 28cm
EDITION SIZE: Unsigned and unnumbered open edition
The print is 14" x 11 " and is printed on 110 lb. kraft cardstock manufactured by a 6th-generation family-owned American papermaker. 
Each print includes a small blind impression of the Starfangled Press logo in the bottom corner of the paper. Prints are sold unframed. 
Prints are individually packaged in a crystal clear, protective closure cello sleeve with a rigid 4ply backing board. Backing boards are pH neutral, made from 100% recycled fiber, and letterpress printed with a small Starfangled Press logo.
Printed by hand using original artwork and traditional printmaking techniques in Brevard, NC. Each print is unique and may exhibit some subtle variations.  
Regular price
$28.00
$0.00
---
More from this collection