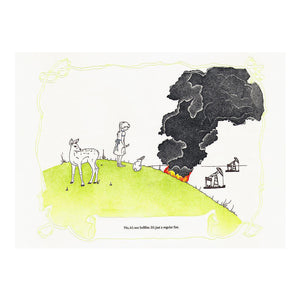 Jessica C. White
Hellfire
This is a digital reproduction of "Hellfire", a part of the "Heavens to Betsy" series that emulate the look of children's book illustrations. The original is a limited edition hand-colored letterpress print, made from photopolymer plates and woodcuts of the artist's original illustrations and text.

The text says,"No, it's not hellfire. It's just a regular fire."
This print is an 8"x10" inkjet print on archival paper, printed in an unlimited edition.
PRINT: Ink-jet
PAPER: Archival
PAPER SIZE: 8" x 10" | 20cm x 25cm
EDITION SIZE: Unsigned and unnumbered open edition
Regular price
$20.00
$0.00
---
More from this collection