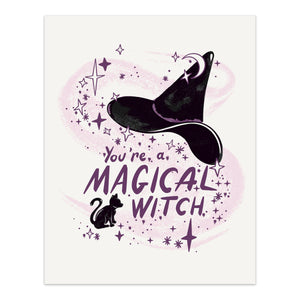 Starfangled Press
You're A Magical Witch Screenprint
Hang this You're A Magical Witch screenprint on a wall so you never forget that you are indeed, a magical witch! 
This Starfangled Press original design features a classic black witch's hat and black cat floating in a magical swirl of purple stars and hand-lettered text that reads "You're A Magical Witch."
The print is screenprinted by hand on soft white paper with a rich, flat matte finish indicative of this print medium.
PRINT: Screenprint
PAPER: Soft White 100 lb. Cardstock 
PAPER SIZE: 14" x 11" | 36cm x 28cm
EDITION SIZE: Open edition
The print is 14" x 11 " and is printed on 100 lb. soft white cardstock manufactured by a 6th-generation family-owned American papermaker. 
Each print includes a small blind impression of the Starfangled Press logo in the bottom corner of the paper. Prints are sold unframed. 
Prints are individually packaged in a crystal clear, protective closure cello sleeve with a rigid 4ply backing board. Backing boards are pH neutral, made from 100% recycled fiber, and letterpress printed with a small Starfangled Press logo.
Printed by hand using original artwork and traditional printmaking techniques in Brevard, NC.  Each print is unique and will exhibit some subtle variations.
Regular price
$28.00
$0.00
---
More from this collection